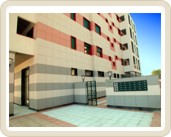 "Cover well and air the building in order to obtain the best energy saving possible"
Ventilated walls represent the state of the art of the moder building industry.
It is made of:
1.An external covering, that has an estetical value and it protects the building from atmospheric agents

2.The inner tube, that avoids the formation of steam and humidity thanks to the chimney effect.

3. The external capsizing, that eliminates the beat bridges and increases the thermical resistance and the acustic insulation.