The Application of the Covering System
Application Fields: Civil, Industrial and Commercial Buildings.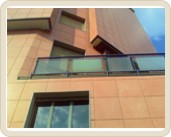 One of the main features of METHODO Coverings is that it's easy to install. Il sistema non presenta nessuna limitazione di montaggio con qualsiasi condizione climatica. The system does not present any installing limitation at any climatic condition The product does not need any supplementar support (as aluminium or splint supports) because it's already produced with an internal support, that supplies the product with the right distance from the wall in order to ease air circulation.

The application of the METHODO
Covering System on the external walls of a building happens through anchorage. The system is supplied with nylon plugs and steel screws and this guarantees the covering for ever.

The preparation of the surface is normally divided in four phases.

1. Clean up and raw recover of the bad sections of the surface you want to cover.

2. Squaring of the surface to cover: trace a horizontal line using a water level and a vertical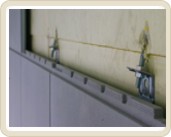 line with a sufficiently heavy lead in order to have no oscillations, which can cause an imprecision in the line uprightness.

3. The installing procedure must be executed positioning the first module on the left side of the surface to cover, then you must place consequently the modules according to the joint on the right side. This operation must be repeated till the end of the wall.

4. Once the first line of boards has been installed, you can start with the second, simply repeating the very operations you did before till you have covered the entire wall

In case of walls with windows or various openings, it's necessary to install the water collecting system aroung the openings before applying the covering. Then install the covering as told in point 3, putting a particular effort to all th cuts you will have to make to your boards, because you have to be very precise. Only then you can complete the installation and prepare to finish the work.

Finishes
A façade covering, beside its technical features, needs finishes that can give it a nice aesthetic effect. Our technicians have studied innovative systems to give the right look to: corners, edges, water outflow, parapets, window ledges, architraves and other details. Our Research and Development department has lead to high quality finishes, with systems projected to last.